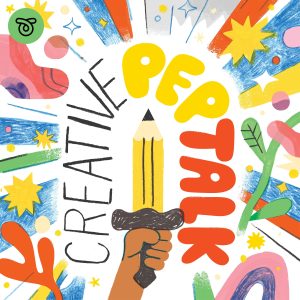 Imagine going through life with the name, Andy J. Pizza. That's what my guest today goes by, but it wasn't his given name, but rather his claimed name. More on that when we talk. Andy was the kid who perpetually zagged when everyone else zigged. And, at a young age, he saw this same pattern in his mother, he was so much like her. Which, in part, lit him up, but also terrified him. In his mom, these same impulses were married to mental illness that led to a life of struggle. He feared that's where he was headed, too, until a realization dropped that would not only lead him down his own path, but also empower him to embrace life differently and trust he could make it work. And, indeed, he has. 
Andy has built a stunning career as an illustrator, author of kid's books, animator, and contributor to The New York Times, Apple, Nickelodeon and countless other mega-brands. Driven to share and inspire others in the creative community, he heads up the fantastic Creative Pep Talk podcast, where, by the way, I was his guest recently. And, Andy is a master of the stage, with a style of public speaking that's one part TED Talk, one part one-man show — with a sprinkle of stand-up comedy. His friends call his approach Laydown Tragedy ( 😆) – because it's the opposite of stand-up comedy, in that instead of shooting for laughs, he aim for tears, but in the best of ways!
You can find Andy at: Website | Instagram | Creative Pep Talk Podcast
If you LOVED this episode:
You'll also love the conversations we had with Morgan Harper Nichols about leaning into creativity and language as a form of both creative expression and emotional processing.
My new book is available!
Check out our offerings & partners: 
Parachute: Premium quality sheets, towels, robes and more. Like nothing you've ever felt. Make staying in more comfortable with our modern home collections. Responsibly manufactured. Visit ParachuteHome.com/GOODLIFE for free shipping and returns on Parachute's very comfortable home essentials.
Theragun: A deep muscle massage treatment, unlike anything you've ever felt. Feel better, move better, and recover faster with tension and soreness relief. Try Theragun for 30-days starting at only $199. Go to Therabody.com/GOODLIFE right now and get your Gen 4 Theragun today.