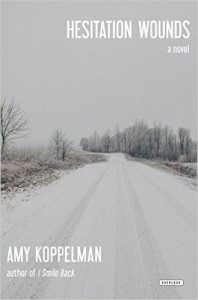 Today's guest, Amy Koppelman, is a three-time novelist (so far), mom and an incredibly insightful human being. Her latest novel is Hesitation Wounds.
Amy's second book, I SMILE BACK, was turned into a movie starring Sarah Silverman that premiered at the 2015 Sundance, Toronto and Deauville Film Festivals.
I wanted to sit down with Amy, because I was drawn in by her immediate, visceral writing voice, her willingness to explore places that might scare off many others and also because of her lens on the writing journey and on life.
In this conversation, not only does Amy share a bundle of unfiltered advice on the creative writing process, she also takes us, very transparently, into her personal journey and her lifelong dance with depression, becoming a mom and wife and author and how each affected the other.
Listen in for some insightful thoughts on traversing the creative writing process to write your best work.  
In This Episode, You'll Learn:
Why every creative writer's process has to be their own.

Amy's Tip: Assume that no one will read your writing. Your honesty will flow more freely to weave a more compelling story.

The six-word story Hemingway wrote to win a bet.

How using writing prompts can jumpstart your creative process when nothing else will.

How Amy uses writing as a "toilet bowl" to therapeutically express emotions.

Her method of expressing inner turmoil and using truth in her novel characters,

Her view on mental health, depression, medication and therapy.

Why comparing your work with that of professional artists isn't a comparison at all and can lead to self-defeating tendencies.

Amy's take on "giving yourself permission" to do something that impacts others.

Why personal suffering is NOT a core requirement for artists as many people believe.

Confronting "Imposter Syndrome" when people ask "What do you do?"

What it was like to be interviewed on air by the love of her life.
Resources Mentioned In This Episode:
Be sure to subscribe to our weekly Good Life Updates and listen on iTunes to make sure you never miss an episode!