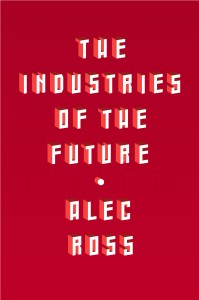 Alec Ross is a Distinguished Visiting Fellow at Johns Hopkins University and the author of The New York Times bestseller The Industries of the Future.
He recently served for four years as Senior Advisor for Innovation to Secretary of State Hillary Clinton. Prior to his service in government, Alec was a social entrepreneur and served as convener from technology, media & telecommunications policy on Barack Obama's presidential campaign in 2008.
Much of his interest in tapping technology and innovation to make a better world comes from his career as a sixth-grade teacher through Teach for America in inner-city Baltimore, during one of the most challenging times in the city's history, and also his upbringing in a small mining-turned-chemical town where opportunity was not always easily found.
In his book, The Industries of the Future, he explores what he believes will be the major growth industries and also career opportunities for the next few decades, while also shining the light on some of the most fascinating innovations of our time and offers a lens into where they're headed (and why we might want to get on board).
In This Episode, You'll Learn:
How growing up in a coal-turned-chemical town profoundly shaped his lens of work and life.
His path from inner city teacher to the founder of an NGO to the tech and media policy director for the Obama campaign to working in the State Department under Hilary Clinton.
Why he fears 'the gray twilight'.
How he hacked solutions to foreign policy problems.
How he got abuelas in Mexico to take down cartel leadership through texting.
Why his name was a banned search term in China for 2 years.
Why he believes that the next trillion dollar industry will be created from genetic code and personalized medicine.
Mentioned in This Episode:
Be sure to subscribe to our weekly Good Life Updates and listen on iTunes to make sure you never miss an episode!
Photo credit:Stephen Voss