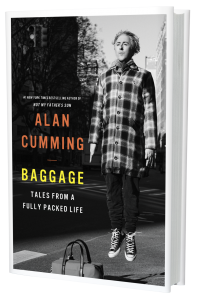 Surviving what he describes as a tormented childhood riddled with abuse, Alan Cumming turned to acting, before he knew it was acting, as a way to step out of the world he inhabited and into one of his own creation. One that was safe, where he made the rules. That impulse eventually led him to leave home, study drama in Glasgow, and, in his words" tumble" into a career that, from the outside-in, has appeared as an endless stream of successes. He's performed with everyone from Jay Z to Liza Minelli; won countless theatrical awards, made back-to-back films with Stanley Kubrick and the Spice Girls; played God, the Devil, Hitler, the Pope, a teleporting superhero, Hamlet, all the parts in Macbeth, General Batista of Cuba, a goat opposite Sean Connery, and political spinmeister Eli Gold on seven seasons of The Good Wife. 
He's also owned the stage and invited people to re-examine their beliefs, identity, sexuality and sense of power, propriety and openness in the role of the EmCee in Cabaret, which he took on three times over 22 years in London and on Broadway. He's the author of five books including a #1 New York Times best-selling memoir; and played the first-ever gay leading role on a US network drama, CBS's Instinct. And, Alan was made an Officer of the British Empire for his contributions to the arts and LBGT equality by the Queen, and has had a love affair with New York City for nearly three decades, where he lives with his husband, and just for fun, also owns a bar.
What sounds like a near-magical life on stages, television and the big screen, though, has also seen its share of profound pain, loss, grief, existential struggle, and eventually a series of reckonings, and awakenings to who and what matters, and a certain reclamation of joy and life. Now in his 50s, he reflects on these moments along this journey in his new book, Baggage: Tales from a Fully Packed Life, and we dive into all of it, along with his take on current culture, in today's conversation. 
You can find Alan at: Website | Instagram
If you LOVED this episode:
You'll also love the conversations we had with Matthew McConaughey about what really matters in life.
My new book is available!
Check out our offerings & partners: 
Peloton: Access high-energy workouts, instantly. Discover Peloton: streaming fitness classes to you live and on-demand. With the Peloton Bike, there's nothing like working out from home. Learn more at onepeloton.com. New members can try Peloton classes free for 30 days at onepeloton.com/app. Terms apply.
Air Doctor: Capture contaminants and chemicals with a medical-grade UltraHEPA air purifier that's 100X more effective than ordinary purifiers. Go to airdoctorpro.com and use the promo code GOODLIFE to receive a 35% discount off their classic AirDoctor 3000 purifier.
photo credit: Josh Going