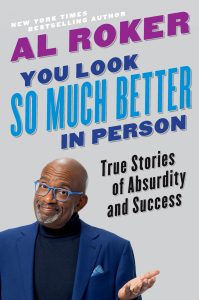 Al Roker is a co-anchor of NBC's Today, an Emmy-award winning journalist, and a New York Times bestselling author. He has been at NBC for 40 years and he's the celebrated host of the annual Macy's Thanksgiving Day Parade. He is also a host on SiriusXM's Off the Rails and the owner of production company Al Roker Entertainment, Inc. He recently starred in Broadway's Waitress.
What many people don't know, though, is that Al is also an award-winning television producer and CEO of Al Roker Entertainment, Inc. For the past 26 years, his company has produced TV programs and digital content for network, cable, digital, and streaming channels including The Weather Channel, Science Channel, Nat Geo, Food Network, Discovery, TLC, NBC, CBS, among others, as well as commercials, and branded entertainment for a wide array of sponsors and non-profits. The recent ARE production, Side by Side, celebrated the frontline workers in NYC. Al Roker Entertainment helps brands forge deeper connections by producing social good content through traditional storytelling, docu-dramas, first-person narratives, and reality TV-inspired feel-good themes. And, Al is also a writer, his latest book, You Look So Much Better in Person, is part memoir and advice-guide for crafting a rewarding career.
You can find Al Roker at: Website | Instagram
Check out our offerings & partners: 
Seed develops clinically-studied probiotics to impact human and planetary health. Start your path to a healthy gut: Visit seed.com/GOODLIFE or use code GOODLIFE for 15% off your first month of the Daily Synbiotic.
Air Doctor is a medical-grade UltraHEPA air filter. Go to airdoctorpro.com and use promo code GOODLIFE and you'll receive a 35% discount.
Photo credit: Heidi Gutman Guillaume