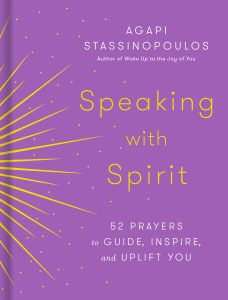 When you think about the word "prayer," does it repel you, trigger you, or draw you in? My guest today, Agapi Stassinopoulos, offers a way into this sometimes loaded word that is both inclusive and powerful, no matter your beliefs, your background, or relationship with any kind of organized religion. The type of prayer she invites us to invoke operates on a very different level. One that anyone can get behind, and find connection and solace from. And this idea, along with many specific examples, is the focus of her newest book, Speaking with Spirit: 52 Prayers to Guide, Inspire, and Uplift You.
Agapi is what I like to call a walking hug. She embodies love, which in fact is the translation of her name. A best-selling author and speaker who inspires audiences around the world, after being raised in Athens, Agapi was trained in London at the Royal Academy of Dramatic Art, but then shifted direction, focusing her wisdom, words and presence away from the theatrical stage, getting her master's in psychology and speaking more directly to the hearts and minds of people with intention of inspiring us all to live better lives. She's authored numerous books, spoken to organizations around the world, from L'Oreal, Accenture, and LinkedIn to Google, Nike, Starbucks, Museum of Modern Art, and hundreds of others. In today's conversation, we dive deep into what happens we muster the courage to speak aloud a hard truth, a deep need, open to vulnerability, and reconnect with something bigger than ourselves. If there was ever a time to embrace this idea, it's now.
You can find Agapi at: Website | Instagram
If you LOVED this episode:
You'll also love the conversations we had with Agapi in a prior episode that shares more of her personal story, and the experiences that have shaped her.
My new book is available!
Check out our offerings & partners: 
KiwiCo: KiwiCo delivers science and art projects for kids of all ages. Redefine learning with play and get 50% off your first month plus FREE shipping on any crate line with code GOODLIFE at kiwico.com
Sleep Number: Adjustable firmness, comfort and support on each side. Proven quality sleep is life-changing sleep, which starts with Sleep Number adjustability. It's time for Sleep Number's Lowest Prices of the Season. Save up to $1000 on Sleep Number 360® smart beds. Plus special financing, for a limited time. Only at Sleep Number® stores or sleepnumber.com/GOODLIFE.
OUAI: Get healthy hair & soft skin with our nourishing formulas. Does your hair need a Detox? Leave last year's build-up behind and start the year feeling refreshed and ready with OUAI. Go to theouai.com and use code GOODLIFE to get 15% off your entire purchase.