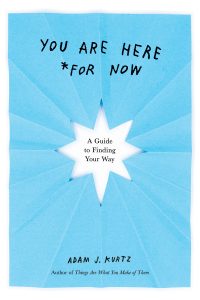 Adam J. Kurtz (whose artist's identity is Adam JK), is a designer, artist, and speaker whose work is rooted in emotional honesty, humor and even a little bit of darkness, but always with the intention of connection, honoring the reality of any given moment, and being honest. He's been making and sharing on the internet since age creating his first fan website at twelve years old, eventually went to school for graphic design and learned to express, in his words "slightly too much." Adam's work embraces the world with a certain "backhanded optimism" and a dark sense of humor or what he describes as "positivity adjacent." And he speaks frankly about channeling human emotion into art, and generally just trying to be more okay with whatever we've got and wherever we are in life. 
This comes out, often, in the form of hand-lettered aphorisms and illustrations that you'll find all over the internet and social platforms, as well as in books, merch, prints, stationary and brand-focused gifts under his ADAMJK® brand. His books have been translated into over a dozen languages and his offbeat, fun and irreverent creative work has been featured everywhere from NYLON and Adweek to Vice, The New Yorker, and more. In his newest book, You Are Here (For Now): A Guide to Finding Your Way, Adam steps more fully into his writer side, sharing longer-form stories, insights, and ideas. We dive into all of this, how his lens and work have been shaped by an othrodox religious upbringing, what led him down the path of zagging when everyone else was zigging, how his move from New York to Hawaii has changed him and so much more.
You can find Adam at: Website | Instagram
If you LOVED this episode:
My new book is available!
Check out our offerings & partners: 
Talkspace: Online Counseling Via Text, Audio, Or Video Messaging. At Any Time, From Anywhere. Get $100 off of your first month with Talkspace. To match with a licensed therapist today, go to Talkspace.com or download the app. Make sure to use the code GOODLIFE to get $100 off of your first month and show your support for the show.
Canva: Create beautiful designs with your team. Use Canva's drag-and-drop feature and layouts to design, share and print business cards, logos, presentations and more. Design like a pro with Canva Pro! Right now, you can get a FREE 45-day extended trial when you use my promo code! Just go to Canva.me/GOODLIFE