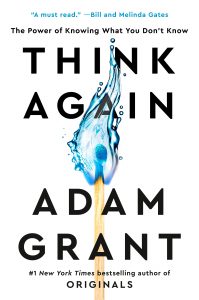 What would it take to make you rethink a deeply held point of view or belief? That's one of Adam Grant's recent fascinations. Adam is an organizational psychologist and TED speaker who helps people find meaning and motivation at work. He has been Wharton's top-rated professor for 7 straight years. As an organizational psychologist, he is a leading expert on how we can find motivation and meaning, and live more generous and creative lives. He has been recognized as one of the world's 10 most influential management thinkers and Fortune's 40 under 40.
Adam is also one of TED's most popular speakers, his books have sold millions of copies, his talks have been viewed more than 25 million times, and his podcast WorkLife with Adam Grant has topped the charts. His pioneering research has inspired people to rethink fundamental assumptions about motivation, generosity, and creativity. And he is a former Junior Olympic springboard diver. Adam's new book, Think Again, is a fascinating deep dive into how to come to form a point of view, why it's so important to hold even our staunchest beliefs more lightly than we think, and what happens when stay doggedly attached to opinions and beliefs even as the world starts to reveal how wrong they were.
You can find Adam Grant at: Website | Instagram
Check out our offerings & partners: 
Peloton: Access high-energy workouts, instantly. Discover Peloton: streaming fitness classes to you live and on-demand.

Get started on your Peloton journey today and download the Peloton app from now through January 31, 2021 for a two-month free trial.

AquaTru: Countertop reverse osmosis water purifier that's certified to create bottled-quality water. Receive $100 off an AquaTru plus free shipping when you go to AquaTru.com & enter code GOODLIFE at checkout.