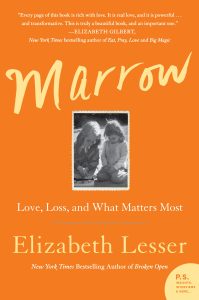 Elizabeth Lesser is the co-founder of the legendary Omega Institute, recognized internationally for its workshops and conferences in wellness, spirituality, creativity, and social change. She's presented at TED, was named one of Oprah Winfrey's Super Soul 100 and is a New York Times bestselling author. Seeking to help save her younger sister's life after a diagnosis of cancer, Lesser donated her bone marrow. While her efforts, devastatingly, didn't achieve their ultimate goal, they led to a profound transformation in the relationship between the sisters that has become the focus of Elizabeth's latest book, Marrow: Love, Loss & What Matters Most.
+———————+
GLP Update: Camp Good Life Project – $200 Super Early Bird Discount! Join us for 3 ½ mind-bending days of deep-learning, epic stories, friends-for-life, juicy adventures and ideas, strategies and tools for accelerated personal and business growth! It only happens once a year in August, and more than half the spots are already taken (we sold out months early last year and had to turn-away many amazing folks). Learn more now and grab your spot!
We're grateful for the kind support of: 
Go to

TryOmax.com/GOODLIFE

today to get a box of Omax3 Ultra-Pure, FOR FREE!

Tapping science to secure lower rates on life insurance for health-conscious people. To see if you qualify, get your free quote today at

healthiq.com/goodlife

.
Photo credit: Dion Ogust