Camp DIspatches
April 8, 2018
Hey Camper!
Happy Spring! Although, here in NYC, it doesn't really feel like spring has arrived. Longing for warmer weather and counting down the days to camp!!
Every year, we aim to put together a robust roster of workshops that focus on the 3 Good Life Buckets: vitality, connection & contribution. And, we make our best effort to have something for everyone.
We're super EXCITED to introduce some of our NEW workshop presenters for this year's event.
These folks are not only *really* fun (one of them tends to speak in costume)…
But they are also highly respected, successful business owners who have embraced doing things differently in their fields of expertise.
Kira Hug is a personality-based conversion copywriter with a knack for wordsmithing wizardry that sells and co-host of The Copywriter Club podcast.
Drawing upon lessons from "The Greatest Rockstar Ever" David Bowie—as named by Rolling Stone magazine—and other 70s artists…
Kira's workshop will unveil a little-known framework that celebrates individualism, sideburns, and costume…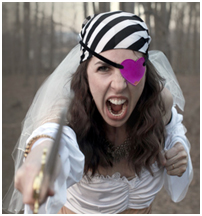 And this workshop will forever change the way you write your sales copy (…dare we say you might actually have fun writing sales copy?).
This summer when you meet Kira, give her a little arrrrrgh as a greeting.
She'll know exactly what you mean. 😉
You'll also meet Kelly McNelis, a mom, wife, friend, mentor, Reiki master, author, and healer who firmly believes that there's no such thing as TMI.
Kelly is on a mission to bust the myth that there's a recipe for perfection..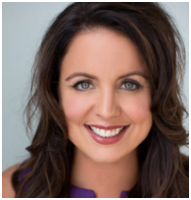 And as the founder of Women For One, Kelly encourages women from around the world to share their stories through what she calls fierce truth-telling.
Based on her book "Your Messy Brilliance," this workshop will dare you to step into your story, help you give yourself permission to be real, and show how you can make life happen on your own terms.
Dr. Avanti Kumar-Singh joins us this summer as well to provide you with an an introduction to a 5,000 year old ancient healing tradition known as Ayurveda (ah-yer-vey-duh).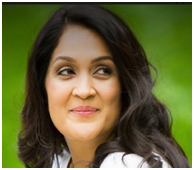 As a physician with training in a variety of healing traditions and modalities, Dr. Kumar-Singh will share real-life examples with simple, actionable steps to help unleash your innate healing power.
She'll even walk you through creative ways to use five healing spices that you probably already have in your kitchen.
I'm bursting with excitement & hope you are too!!!
We've got lots more info to share with you in the coming months – like more amazing workshop presenters and keynote speakers, our 2018 camp theme, ways to participate before camp even starts, and the list goes on! Let us know if you have any questions (or excitement!). In the meantime, we'll keep working to make this year the Best Year Ever.
Camp Hugs,
Stephanie & The GLP Camp Crew