Nilofer Merchant is a master at turning seemingly "wild" ideas into powerful new realities and showing the rest of us how we can do the same.
Over the years, this has taken the form of books, her top-ranked TED talk, strategic advising for some of the largest, most-innovative companies in the world and game-changing startups, as well as being a member of organizational teams responsible for global impact and billions in product revenue.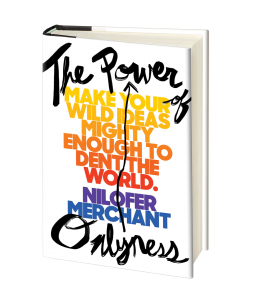 The Power of Onlyness: Make Your Wild Ideas Mighty Enough to Dent the World.
Big idea: Every single one of us has the ability to contribute. The fact that we don't is the society's greatest problem and the greatest opportunity.
You'd never guess:  How one woman was able to sway the decision of a group of Pakistani tribal leaders to change the way they create justice.
Current passion project: Educating people about the power of ideas and the power of all people to move ideas to create impact in the world.
Rockstar sponsors:
Get paid online, on-time with Freshbooks! Today's show is supported by FreshBooks, cloud accounting software that makes it insanely easy for freelancers and professionals to get paid online, track expenses and do more of what you love. Get your 1-month free trial, no credit card required, at FreshBooks.com/goodlife (enter The Good Life Project in the "How Did You Hear About Us?" section).
Are you hiring? Do you know where to post your job to find the best candidates? Unlike other job sites, ZipRecruiter doesn't depend on candidates finding you; it finds them. And right now, my listeners can post jobs on ZipRecruiter for FREE, That's right. FREE! Just go to ZipRecruiter.com/good.