We completely understand if you're not quite ready to step into the power (and commitment) of the Good Life CollectiveTM. There is a time for everything. And, of course, when it feels right, we're happy to welcome you with open arms.
Before you go… we'd still love to see if there's a way we can help.
There's something else we've created. Think of it as a much more streamlined, completely self-guided "taste" of the collective in the form of your own Good Life Project "Daily Journal."
Though, truth is, to call it a journal isn't quite accurate…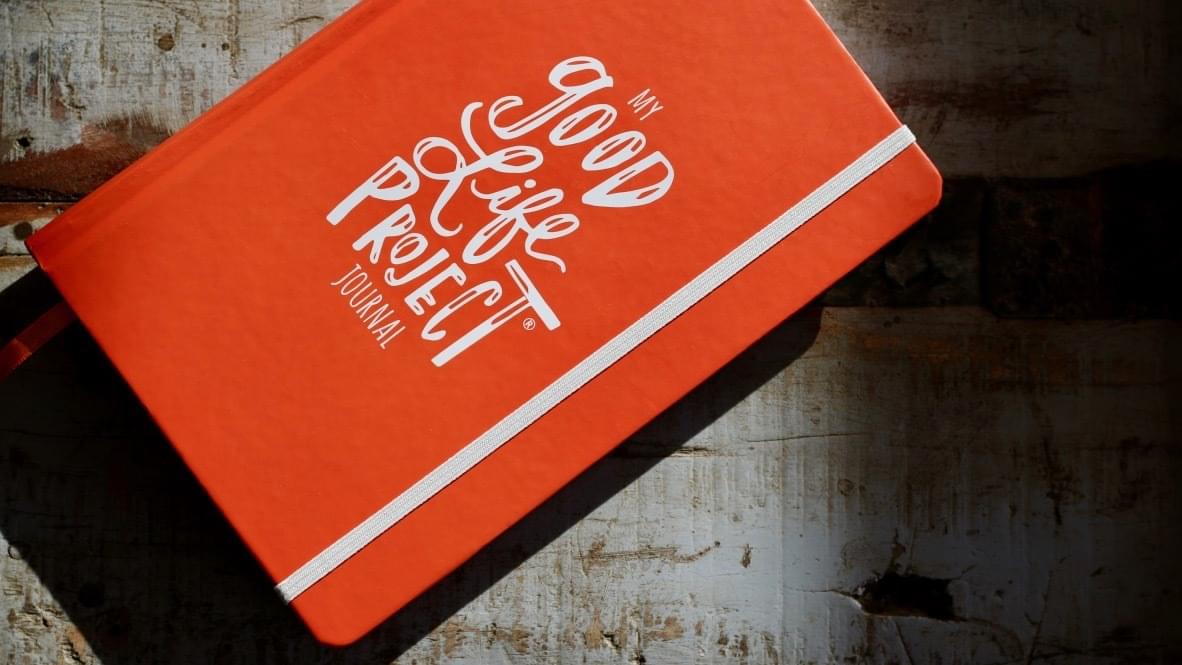 The GLP Daily Practice Journal a deceptively-powerful, yet simple tool to get you started building a daily good life practice on your own.
Because, we now know that a good life it's not about pinning your hopes on some future aspiration or dream that all-too-often never arrives (91% of new year's goals fail).
It is a simple daily practice. Little things, done with intention every day that let you feel more alive, connected, joyful and at-peace. Not in months, but in minutes.
The Good Life Journal will get you going with a simple and fun, science-based 7-minute morning practice that'll set your day up completely differently. And, a 5-minute evening practice that'll help you wind down, let go of the day, and relax into peace, ease and gratitude. Your good life begins today.
It's not just a journal, it's a journey
What if you didn't have to WAIT to live a better life?
What if feeling good about yourself and your life wasn't some big, far-off goal that you had to meticulously plan (oooh, that sounds fun!), then hope and pray (because willpower is gonna vanish pretty darn fast), wait months or years (because anything worthwhile you should have to suffer endlessly for, right?)…and THEN – like the vast majority of people, never actually achieve it after all that waiting and work?
Long-term goals are awesome, they help us do big things in life. But, truth is, feeling alive with purpose, gratitude and joy, and nourished by meaning and people you love, that isn't some far-off goal, it is a simple daily practice. One you can start and feel the benefits of today.
Problem is, most of us don't know what goes into that kind of daily practice. We don't have time to do anything long or complicated, or mess around with unproven practices or platitudes that don't work. And, we've never found a simple tool or guide that tells us exactly what to do, offers vetted resources and prompts to simplify the process, holds us accountable to making it happen and is fast, fun and easy to do.
So, that's exactly what I've created for you with The Good Life Journal. Seven-minutes in the morning, 5-minutes just before bed, weekly & monthly check-ins to show your progress and a private vault of guided audio to make starting and building your practice near-effortless.
Start living your better life in just 12-minutes a day.
---
Here's what you'll get in your Good Life Journal…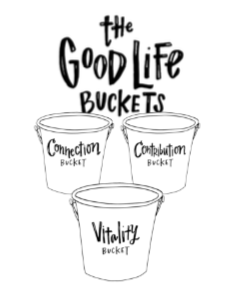 GOOD LIFE BUCKET MODEL
The simple, yet powerful model to live more fully and know exactly where to focus your energy for maximum joy on any given day.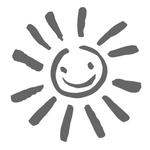 7-MINUTE MORNING PRACTICE
A fun, science-backed 7-minute morning practice that gives you "quick wins" and sets up your day for joy, purpose and possibility.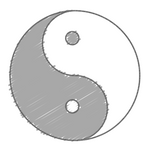 5-MINUTE EVENING PRACTICE
Melt into this short and sweet pre-bed practice, based on research that helps you relax and come back to a place of grace and gratitude.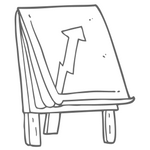 WEEKLY PROGRESS CHECKS
Weekly bucket checks keep you accountable to action and let you clearly see your progress and growth.
MONTHLY GOOD LIFE BUCKET CHECKS
A powerful tool to go deeper into what works, what doesn't, then recalibrate your practice for optimal flourishing every month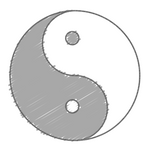 GUIDED-AUDIO DAILY PRACTICE VAULT
Throw on your headphones for a few minutes of guided mindset practice that'll help you find your good life groove.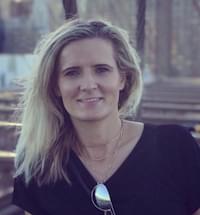 Ula Rzepień
"In January of 2017, this journal started as a way to discipline myself, to hold myself accountable and create a habit.
Then it turned into a daily ritual I cherish. Something I missed, once I finished the first 232 pages. I'm on my second journal now!"
Where the practices come from…
The practices in the journal, and guided audio that accompany it, have been drawn from: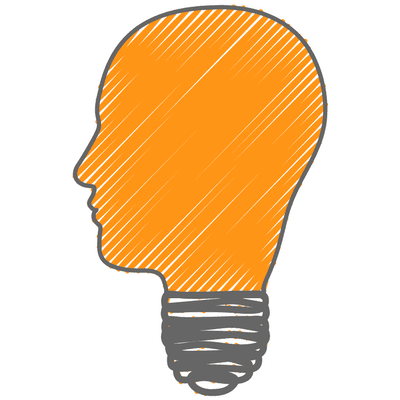 Peer-reviewed, academic, tested and validated scientific research
Ancient wisdom traditions that've been proven out over thousands of years
Learning from hundreds of the world's greatest teachers and researchers
Decades of experience teaching and applying these ideas "in the field" with thousands of students
Together this blend of science, wisdom and applied-experience creates a powerful antidote to the frenetic, busy and "someday" obsessed approach to life and lets us reclaim a sense of peace, purpose and joy in this moment.
---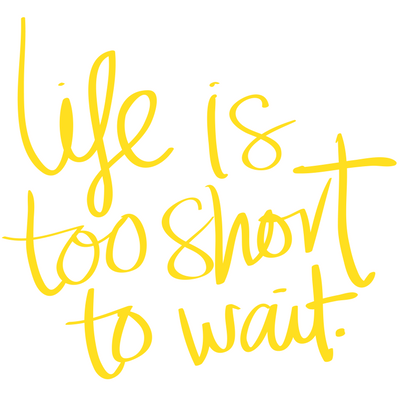 You don't have to wait to begin. Start today…
When you order your Good Life Journal today, you don't even have to wait for it to be delivered to begin your daily Good Life practice. Along with your confirmation email, you'll get a special "Journal In Transit" PDF with the introduction, description of the Good Life Buckets and the first 7 journal days, along with a link to immediately access the online guided audio and resource vault.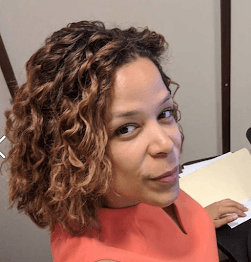 Elaine Montilla
"My GLP journal has become my personal sandbox where I could be creative and play with words and ideas.The same way yoga and meditation keep me centered, my journal helps me be grounded and understand which buckets need more attention at any given time. Also, the daily quick fill serves as a reminder on what's really important in life and I no longer need a separate gratitude journal. It is all included here. Love it and highly recommend it."

Frequently asked questions…
How long will my journal last me? Your Good Life Journal will keep your daily practice fueled for a full 6-months. After that, you're welcome to order another or continue on your own. Fair disclosure – as of mid-January, we've only got about 750 journals left and once we sell out, we'll have to wait for the next printing. So, if you want to be sure to have an extra on-hand, or give a friend the gift of a Good Life Journal at some point over the next few months, you may want to add that to your order now. We cannot guarantee when the next printing will be completed and available for sale.
What do the pages of my journal look like? Check out the video above, you'll see some examples of the various pages and elements in the journal. Quick thought here, many of the "prompts" stay the same, while others cycle through 28-days, each offering a different invitation. Either way, what you write and the actions you take will change on a daily basis, so your practice stays fresh and fun over time.
How will I download my instant PDF (Intro + first 7days) and where will I find my link to the online audio/resource vault? As soon as you complete your order, you will receive a confirmation email that includes the details of your order AND shares a link to the online resource vault page, where you'll be able to download the Intro + First 7-Days PDF, along with guided audio and other resources.
When will my journal arrive (because I'm sooooo excited)? We do our best to ship within one-business day (not including weekends, because ya know, we've gotta walk the walk and live our lives, too). We ship standard media mail, which usually arrives within 5-7 business days. The cost is a nominal $3.95. If you would like it to arrive by 2nd day delivery, you'll have that option on check-out for $8.95. Between the instant downloadable PDF and immediate access to the guided audio and other resources, you should be covered until your Good Life Journal arrives.
What if I'm outside the United States? Unfortunately, at least for now, we are only shipping within the United States. The costs and duties outside the US just don't make it feasible right now. Though, we will be looking for a solution and possible international distribution partners in the near future (hey, if that's you, btw, shoot us an email using the email address below).
What if it arrives damaged? On rare occasion, we realize weird stuff happens in transit. #crazydeliverypixies! Just shoot us an email at the below address and we'll take care of you!
Can I get the Good Life Journal anywhere else? Nope. Right now, the only place to get you Good Life Journal is here, through us, you know, your friends at Good Life Project. We may, at some point, make them available through well-aligned retail outlets, but for now, this is your one-place on the intertubes to get your delish Good Life Journal.
Can we buy them in bulk for our group? Maybe! Drop us an email at the below address, and we'll see what we can do.
For any other questions & media inquiries – Super easy. Just send us an email at [email protected]
---
One last thing.. It all comes with our 100% Money-back guarantee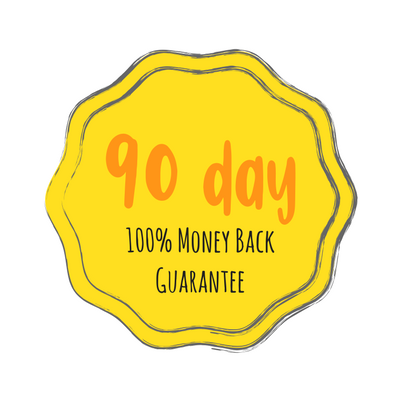 Let's keep this simple.
If you decide your Good Life Journal isn't right for you once it arrives, for any reason, just return it to us in its original, sealed packaging, in new condition within 90-days. Once we've received it and confirmed the condition, we'll immediately issue you a full 100% refund of your purchase price, minus shipping. Doesn't get much fairer than that.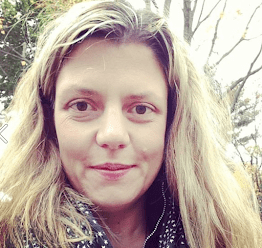 Cassia Cogger
" I love my GLP journal. A quick one page practice that serves as a touchstone in my pursuit of living a life of intention. I love the visual buckets and the one word to guide the day. Spending just a few moments morning and night make an enormous difference any given day."

Your better life is just minutes away…
So, let's do this together. Take the first step to creating a better life, one with ease, joy and intention.
Live the way you want to live, feel the way you want to feel. Not someday, but now. It isn't some far-off goal, it's about the little things you do every day. And, you can begin to do those things today.
And, remember, when you order your Good Life Practice Journal right now, you won't even have to wait for it to arrive to get going. You'll get instant access to a PDF of the Intro + First 7-Days and a link to our online resource vault, so that you can start in minutes!
ONLY $29.95

(plus $3.95 shipping/$8.95 for Priority. U.S.- only)