Camp DIspatches
August 1, 2018
Hooray! August is finally here! We're just 20 days away from greeting you at Camp GLP, and before we get to hug, we want to make sure all the important details you need are covered. So buckle up and hang in there with us for some important reminders and info below on…
Join the Camp GLP Facebook Group
Click here to get an idea of the overall schedule for each day. And, remember, everything is encouraged, but nothing is mandatory. You get to create the experience you need with the people you can't get enough.
Workshop Descriptions. We've also made an easy visual one-page sheet for you of all the workshops so you can easily reference what's happening when. (printer-friendly version here.)
To register for the workshops, CLICK HERE
New campers…sign up for a buddy. Returning campers…sign up to be a buddy.
8/5 is the last day to submit your bunkmate request. After that, the magic sorting hat takes over to find you the perfect cabin with the best bunkmates.
We are gearing up for our next Camp Jam, Wednesday, August 15th at 8pm EST (that's 5pm PST) and we just can't wait to see you!
We'll have space for Meet-Ups in the afternoon on Friday and Saturday from 1pm-2pm. You can find the Camper Meet Up Info Form here.
Transportation
Not sure how you want to travel to Camp yet? With 36 days until Camp, it's a good time to start thinking about that and make some plans. And you can always find Camp transportation information on the Camp GLP site under "Directions." However you decide to get to Camp, we'll be waiting with high fives and bubbles!
Car: You can also drive to Camp! #roadtrip
Rideshare: If you want to make the drive with a friend, you can find folks to ride with (or to ride with you) on our rideshare form.
Charter Bus: Flying into either Newark or Laguardia airports? You can hop aboard our charter buses.
For LaGuardia, you have the option to purchase a spot on the charter bus TO Camp, FROM Camp, or Roundtrip.
And if you're coming in to Newark, same thing. Hop aboard the charter bus TO Camp, FROM Camp, or Roundtrip.
Free Shuttle Bus Service
There are plenty of ways to get to camp via train or shortline bus. If you choose to take the train to Middletown, NY or the public bus to Monticello, NY, please let us know. There is no charge for the shuttles to & from the bus/train station to & from camp during these selected times on Thursday and Sunday: Complimentary Shuttle Bus Sign Up
Look Who's Coming to Camp: Keynote Speaker, Light Watkins
How Failing at Meditation Will Help You Succeed in Life.
In this light-hearted talk, meditation expert Light Watkins will discuss some common misconceptions about meditation, and provide you with real-world markers for success that will make you look forward to failing at your daily stillness practice.
Former Gap fashion model Light Watkins first began attending yoga classes and meditation circles in between castings in New York City. Since 1998, Light has been active in the wellness space, first as a practitioner, and later as an apprentice to his Vedic Meditation teacher, and finally in 2007 as a full-time Vedic Meditation teacher himself. He now travels the world giving talks on happiness, mindfulness, inspiration, and meditation. Light's most recent book, Bliss More: How to Succeed in Meditation Without Really Trying (Random House) was released in 2018. He writes articles on meditation and happiness, leads sold-out meditation trainings and retreats, and produces The Shine—a global pop-up inspirational variety show with a mission to inspire. Light also sends out a popular daily inspirational email each morning called The Daily Dose of Inspiration. Learn more about Light at: lightwatkins.com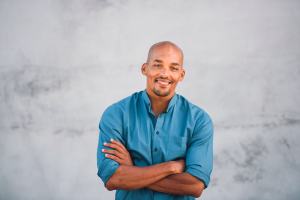 High fives,
Stephanie, Lindsey & the Camp GLP team