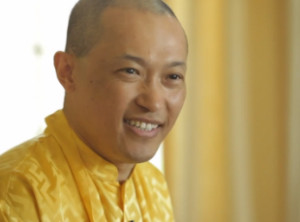 Born in 1962 at the site of Buddha's enlightenment in Bodhgaya, India, Sakyong Mipham Rinpoche is the head of the global Shambhala spiritual community and the son of legendary teacher and Shambhala founder, Chögyam Trungpa Rinpoche.
So…what was he doing having a conversation with me in a beautiful compound just outside Boulder, Colorado?
Nothing less than talking about the future of the human race, one person at a time…
The Sakyong is a fascinating marriage of East and West. An avid runner and marathoner, bestselling author, married father and spiritual teacher, he was educated both in the deepest traditions of Shambhala and Buddhism and the culture and knowledge of Western society.
Through this lens, he's cultivated a stunning ability to bridge both worlds in a very real, human, modern, insightful and immensely-relatable way.
In this episode we talk about the Sakyong's remarkable journey. We explore where the world is heading and how we're in the midst of a rare window of opportunity to make profound shifts in global consciousness.
We explore the challenging concepts of basic goodness (are people fundamentally good or evil?), uncertainty, bravery, enlightenment (and why it's such a loaded word) and purpose.
At times, the conversation gets beautifully candid and personal, especially toward the end as we speak to the dance of fatherhood and spirituality in an increasingly disruptive world.
These ideas and more are also explored in depth in the Sakyong's latest book, The Shambhala Principle.
Today's tweetable…
"Leadership is being comfortable with uncertainty." -Sakyong Mipham Click to tweet
Highlights include:
The profound story behind the name: Sakyong Mipham Rinpoche
How he balances his role as "earth protector" and living in a disruptive society
How running marathons integrates with spirituality
The origins for his notion of the basic goodness of humanity
Technology and it's effect on ones sense of wholeness or oneness in the modern world
Living life as a journey, rather than an obstacle we must overcome
The role of society in discovering purpose
Exploring the meaning of Enlightened Society
The imperative for the entrepreneur to consciously build a purposeful society
The roles of bravery, risk and the fear of failure
The bolstering effect of bravery and belief in goodness
The role of parenthood in an enlightened society
Contrasting the roles of Earth Protector and Daughter Protector
How parenthood effects awareness and urgency to improve global conditions
What challenges lie ahead and how we can embrace meaningful change
As always, if you've enjoyed this conversation, we'd greatly appreciate if you'd share the insights and ideas with friends by email or your favorite online community.
For instant access to the mp3 vault to download this episode as audio-only and stay updated on new developments, go ahead and subscribe by email below. And if you have yet to find us on iTunes, please feel free to subscribe and leave an honest review.
With gratitude,
Jonathan